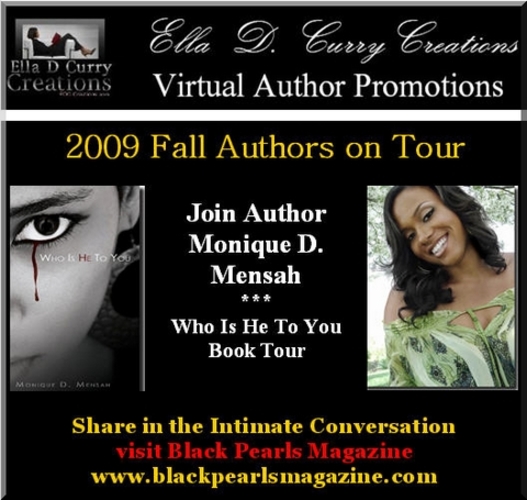 Who Is He to You by Monique D. Mensah
When love involves incest, self-mutilation, drug-addiction, and murder, will Simone, Jessica, and Ryan fight to hold on or will they escape before it's too late?
Audio Excerpt Who Is He To You by Monique D. Mensah
Genre: Dramatic Fiction; ISBN-13: 9780578023489
Media Kit:
http://www.blackpearlsmagazine.com/monique...
This book deals with a troubled father who is abusing his teen daughter. It also addresses relationships that might be toxic between men and their spouses.
Simone, a shockingly beautiful teen, is on the downward spiral of destruction as she battles incest and self-hatred. She finds cutting to be the only way to relieve her pain. She must do something to regain control of her life and restore her family back to normalcy. But Simone may be too late as unexpected events threaten to throw her dream of contentment far out of reach.
Jessica lives the upscale lifestyle of a refined society matron. She strives to be the perfect wife, but without her husband, Ross, she would be nothing more than the abused stripper he rescued 16 years ago. When their marriage is threatened and it forces her to face her past, Jessica vows to do whatever it takes to protect what she has rightfully earned, even if it means murder.
Ryan, a fiery thirty-something, is quickly slipping into depression and prescription drug addiction. As her boyfriend, Anthony, artfully dangles the empty promise of marriage, she watches helplessly as their relationship dissolves. In an attempt to regain her sanity and self-esteem, she finds herself on a mission of self-restoration while trying to save the life of someone she doesn't even know.
As the shattered lives of three very different women collide, they find that they have one thing in common: They're all in a desperate fight to hold on to love. Experience their emotional journey through to the shocking end where these women will experience injury, imprisonment, and even death while crafting new lives from the ashes of their ruination.
Issues Addressed in this novel
1. Incest, s*xual abuse, and rape in the African-American community
2. Depression
3. Identity — Finding your self-worth
4. Teen cutting and self-injury
5. A woman's desperate search for validation through the men in her life
Book Video
Who Is He To You Book Review
Who Is He To You is a riveting tale that walks the reader right into the lives of Simone, Ryan, and Jessica. Simone is the seemingly jovial teen that has the perfect life on the outside but holds secrets that could wreak havoc on her family if revealed. Ryan is the rising star who is so caught up in the essence of being in love that she neglects herself. Jessica is the rags to riches trophy wife who will stop at nothing to keep up the illusion of a happy marriage.
The title and cover of this book piqued my interest, as the details within each chapter commanded my full attention and held it captive until the last page. Monique D. Mensah has penned a thrilling tale with the skill of a well versed veteran author. I highly recommend Who Is He To You and look forward to more from Monique D. Mensah. This author is well on her way to a long and successful writing career.
Unika H. Molden, "The Unique Reviewer"
About the Author
Monique D. Mensah is a native Detroiter with an innate love for the written word. After earning a Bachelor's Degree from the University of Michigan she completed her first manuscript, Who Is He To You. Shortly after, she launched Kisa Publishing and published her debut novel.
Monique now resides in Southfield, MI where she is raising her daughter and working full-time as an enrollment counselor for a private university. She is also a freelance copywriter and copyeditor and is currently working on her second novel.
Important links:
Author's Website:
http://www.MoniqueDMensah.com
Email: monique@moniquedmensah.com
Purchase at Amazon
http://www.amazon.com/Who-He-You-Monique-M...
Read an Excerpt for Chapter 1 - Who Is He To You
Ch. 1 Who Is He To You by Monique Mensah
-
Who Is He To You Book Reviews
"Monique D. Mensah's debut novel reads more as if written by the hands of a seasoned veteran. Who Is He To You, a riveting story touching on topics such as incest, self-mutilation, and drug-addiction, pulls you in from the first page and doesn't let go until the final period. Can't wait to see what she comes up with next!" – Brian C. Conley, author of Stay and We Were Broken Here.
"Monique D. Mensah has captured the literary world by storm, "Who is he to you" is captivating, intriguing, suspense, and drama all wrapped up into one. A must read for all you book lovers. I read the book in two days, I couldn't work for reading. I was so caught up in each chapter, I was hungry for more. My sincere congrats to you Monique!" – Gwen Cannon, author of Scandalous
"This was Excellent and a great piece of writing. Your character development of capturing the essence of each unique character was flawless. You got 'it'". – Vincent Alexandria, author of Black Rain
"Who Is He To You vividly exhibits Monique D. Mensah's ability to create a and project animated images from cover to cover. The allure of her hypnotic writing style pulsates immensely within the psyche of each reader…thus addicting them eternally." – Marc Lacy, spoken word artist and auhtor of Rock & Fire: Love Poetry from the Core and The Looking Heart: Poetic Expression from Within
"Poignant and stirring, WHO IS HE TO YOU draws you in with the story of Simone. Gorgeous, but greatly misunderstood, we truly understand how beauty on the outside hides ugly underneath. Monique Mensah's writing grabs readers instantly from the first line. WHO IS HE TO YOU was a pleasure to read." -- Sylvia Hubbard,author of Secret, Lies, and Family Ties
Read More 5-Star Book Reviews for Who Is He To You
Amazon Reader Reviews
http://www.amazon.com/Who-He-You-Monique-M...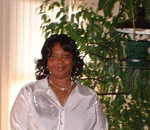 Posted By: EDC Creations
Friday, September 11th 2009 at 11:05PM
You can also
click here to view all posts by this author...